Here's how you and your family can see just how stunningly gorgeous our country is.
You can join us on one of the easiest and most exhilarating adventures anywhere – heli-hiking in B.C. from July 18 to 22, 2018.
No skill or endurance is required. Just a sense of adventure (which may have lain dormant in your heart for years) and a desire to smell the wild roses. Just as there are no conditioning or skill limits, there are no age limits either. You can be 8, 18 or 81 and be enlivened by the whole thing. You can be a marathon runner or mountain climber. Or you can be barely mobile. You can come on your own. You can bring your partner, your grandkids, your bestest pal.
We've taken friends heli-hiking for the past few summers and all of them (and I mean all) come home raving about how beautiful, different and wonderful it all was. And from door to door, the whole amazing experience is just five summer days.
So what is heli-hiking?
It's letting a helicopter take us from a lodge high in the mountains…to vistas, peaks and valleys that people simply don't get to (or would have to spend literally days of hard slogging to reach). We stay at the lodge for four nights and hike for three full days. Late each afternoon we return to one of the most relaxing and scenic hot tubs in the world. Then it's a snooze, drinks and a stupendous dinner. (Health Warning: don't even try to lose weight on this trip. It cannot happen.)
But even better than the scenery and the meals is the company; we're staying at 
Monashee Lodge
 which holds 48 people and you'll meet some fascinating fellow travelers from all kinds of places.
Best of all, we've laid on some special treats for this year's trip. Like a barbecue dinner high on a mountain…plus a hike to "where no person has ever touched foot before" … plus the usual Top-Secret surprises.
The morning of Wednesday, July 18 we fly out on Air Canada direct to Kelowna. We get to the Lodge mid-afternoon, settle in and enjoy a fabulous dinner that evening. Then three fantastic full days of heli-hiking. Then on Sunday, July 22 we head back to Kelowna and home to Toronto.
The trips are run by Canadian Mountain Holidays, the people who invented the sport of heli-skiing, and the art of heli-hiking. CMH has been declared "The Best Adventure Travel Company on Earth" by the National Geographic Society.
And fear not, oh you techno-addicts: the Lodge has Wi-Fi, so you can get online and do your e-mail.
The cost is $3,995 per person from the minute we're picked up by CMH in Kelowna until we're returned back there. (We also have a good group rate on the flight).
But the value? Well, have a look at this: http://bit.ly/1b0LKKH
Indeed, heli-hiking has been called a once-in-a-lifetime experience, and from what I hear it's not nearly such fun after our lifetime!
So if you're just now turning your gaze to making your summer unforgettable, here's your chance. Please grab it now. This trip will fill up quickly. So the question is, will you be with us on top of the world?
After all, Heaven can wait. But can you?
To guarantee your space, please do three things now:
1. Call Rylan Decorato at CMH at 1.800.661.0252 or e-mail him at
RDecorato@cmhinc.com
— and if you'd like to bring along your friends and other family members, please do that too.
2. You'll want to book your flights directly with Kris Knowles at Hospitality Tours for the preferential pricing above. You can reach her at mail@hospitalitytours.com or 647-205-1228.
3. And please let us know you're coming as well — bob@ramsayinc.com.
Onward.
P.S.  Here are six more reasons to do this.
1. From Debra Bennett…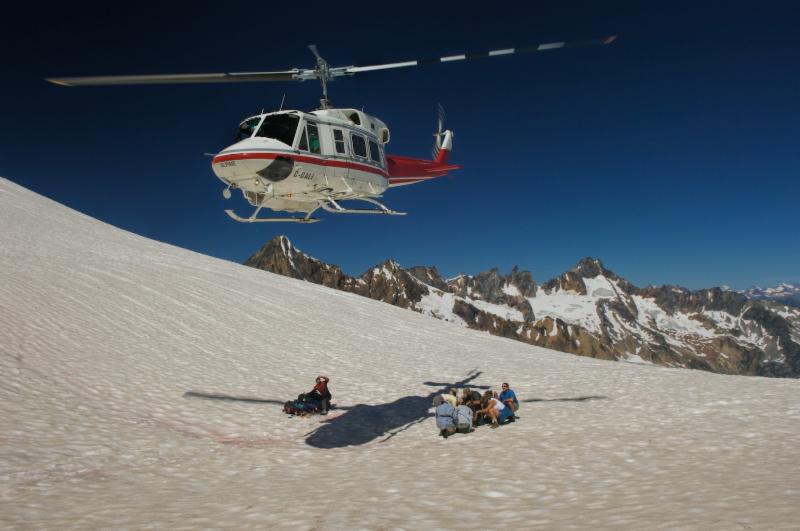 "I cannot believe I lived over five decades without knowing what it is to be on a mountain. A missing piece has fallen into place i
n my world, and like the arrival of a child, it makes me grin like an idiot to think of it. It starts with the skies. I have seen skies from Africa to Fiji. I have never seen skies as clear as mountain skies.
Then there are the meadows. I had no idea there were meadows in the mountains, meadows fit for elves and pixies. I expected to see hobbits around every turn and across every babbling brook, popping out of the green-blue glacial lakes.
And then there are the people. I was there on my own and I was there with a few dozen close friends most of whom I had just met. We relaxed with each other on day one. When I knew I could go no further on the sheer face rock climb with the rest of my group, Bob the guide guided me down to where we could start on a different, less steep route up to meet the others. He adjusted my trip to my fears. I give this trip 15 out of 10."
2. From Wendy Cecil…
"You COULD just hike on over to a rooftop bar in Toronto OR you could actually hike the rooftop of Canada by flinging yourself into a heli-hiking adventure in the Bugaboos!
Having hiked in the Canadian Arctic & sub-Arctic, Scotland, Ireland & England, New Zealand, France, the USA and several countries in Africa, my daughter Tess and I were keen to try the Bugaboos – and we were thrilled with the entire experience – the guides, the landscape, the Via Ferrata, the spirited company (oh yes, and the food!)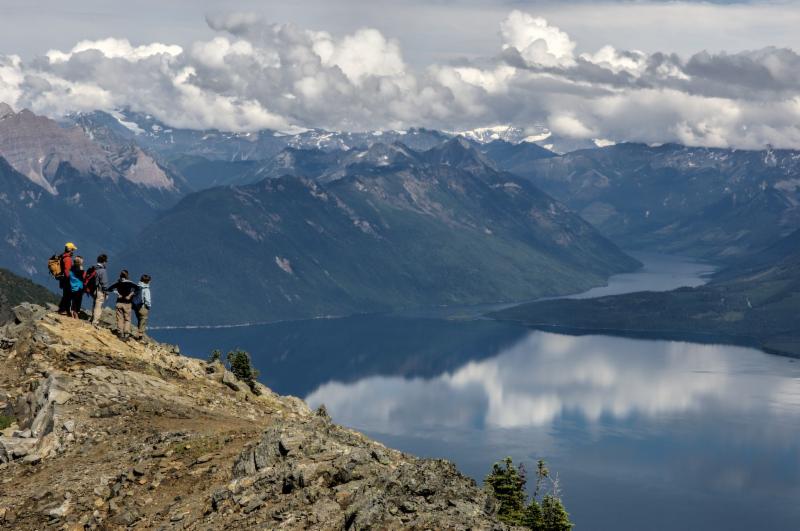 Balletically leaping from peak to peak, our giant helicopter spilled us out on one glorious hike after another in a wide variety of mountain terrains. And, the Via Ferrata, while a bit daunting to contemplate, truly is an adventure well worth doing. You will surprise yourself – whether you are super-fit or just cautiously optimistic about what you might be able to do.
Thinking back on those magical few days in the Bugaboos – the ascents and descents, the cold, the heat, the sun, the shadows the Via Ferrata, the company and the conversations have whirled together in a delicious masala of sensations, vistas and memories. There is something utterly divine about being high and free, spent with physical exercise, enraptured with the power of the mountains and – knowing you are in your OWN country! We are blessed."
3. From Portia Leggat…

"Bob Ramsay is well known for his many enthusiasms, and is most happy when sharing them with others. Having resisted his hyperbolic promotion of the CMH heli-hiking expeditions for years, I happily accepted his invitation to join the July 2012 group for 3 days of hiking in the Bugaboo mountains of British Columbia. The trip far exceeded my expectations!  The daily helicopter rides and hikes along breathtaking mountain ridges and beside glacial lakes, plus the challenging day climbing the Via Ferrata mountain wall were exhilarating. All equipment was provided and the guides were exceptional. The rooms (and outdoor hot tub) boasted spectacular views of the surrounding mountains and the delicious meals were worthy of Michelin stars. This trip is a "must-do" for outdoor enthusiasts of any age, size or shape. Especially with Bob, Jean and their intrepid gang of followers."
4. From Mary Wemp…
"A dear friend of mine mentioned the amazing heli-hiking trip she and her husband had taken with Bob Ramsay in 2011. Looking for an insurmountable adventure I signed up including some of my family members.The trip exceeded my expectations in every way.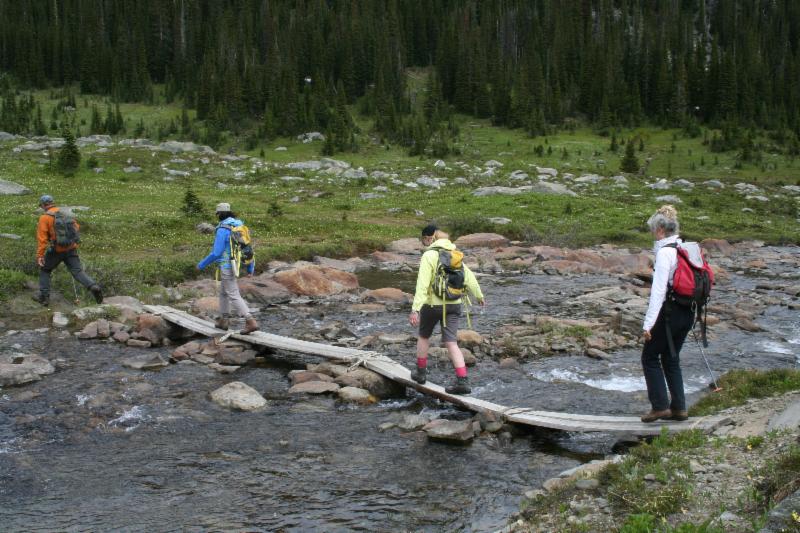 Heli-hiking was the answer to my quest for adventure.The beauty of the terrain was like a never ending movie, areas of pristine snow, turquoise glacier lakes, alpine meadows abounding with wild flowers, and cranky mountain ridges.
The greatest challenge for me was the Via Ferrata. Upon reaching the top I felt a true sense of jubilation as well as relief.The comfortable lodge, beautiful meals, attentive staff, guides, and pilots all contributed to this perfect escape from city life.This is one trip I will never forget!"
5.  From Michael Sherman…
"When I arrived, I didn't really appreciate what was in store for me. In the end, I'm so glad I was able to take the trip, do the hikes and even climb the Via Ferrata. As for the food, every morsel was spectacular, but if I had to choose  a favourite meal, I'd point to the scallops. They were sublime."
6. From Sonja Smits…
Magnificent scenery, challenging hikes, patient and superb guides, surprisingly delicate beauty, glacier lake dip, great company, a few blisters and sore muscles followed by the best jacuzzi view in the world. How lucky we were to experience the startling beauty of our country."